WHAT IS JUMBO PLATFORM?
Jumbo Platform is a layer-2 interconnection solution that provides a vast portfolio of direct, secure and scalable connectivity services through a single Jumbo Platform Port that logically split in to multiple channels for different services in similar manner to NNI (Network-to-Network-Interface). In Jumbo Interconnection Platform, all available services are being provided via separate VLANs, plus, all members can reach leading network service and cloud providers across metros, nations, and continents.
Jumbo Interconnection Platform services are delivered by leveraging IPTP's highly resilient 35+ Tbps private global backbone. Available in multiple locations around the world, Jumbo Platform transports your data between different locations and its members are able to obtain any of the available services avoiding waste money for nowadays pricy cross-connects.
HOW IT WORKS?
Jumbo Interconnection Platform leverages Jumbo Platform Port – which is a type of Network-to-Network-Interface (NNI) – to provide our various connectivity services via separate VLANs.
Once Jumbo Platform Ports have been configured and tailored to your business needs, Jumbo Platform members can obtain any of our available services with only one cross-connection. Reduce time, energy, and money needed to set up extra cross-connections for each additional service!
Jumbo Interconnection Platform supports jumbo frame (up to 9000 byte MTU) capability. Jumbo frames can enhance network performance by minimizing the overhead byte count and lessening the number of processed frames. Jumbo frames are ideal for large data transfers between two distant locations when both places use the same jumbo frame-capable provider.
With Jumbo Interconnection Platform, you can set up physical or virtual interconnections from 233 POP locations across the globe.
WHY CHOOSE JUMBO PLATFORM?
Carrier-class global network
A global network via private network infrastructure, backed by a leading SLA.
Reliability and power
Enhance the security, speed and performance of your mission-critical workloads.
On-demand
Agile, scalable and fast connectivity for your agile business.
Connect to more things, faster
High-speed connections between data centres and partners in seconds.
HOW CAN JUMBO INTERCONNECTION PLATFORM HELP YOU?
Lower latency, boost speed and improve scaling, network control, network reliability and visibility
Maximize your business potential by expanding services via creating virtual connections or adjusting bandwidth as demands change
Deploy in new areas and reach your customers faster by increasing capacity with pre-configured connections
Leverage our network scope that links all the most desired international markets
Centralize your interconnections to providers, partners, and customers
Simplify your network with a single port and one cross-connection
Extend your market reach without costly infrastructure expenses
Scalable bandwidth and diverse connectivity choices to improve company collaboration
Flexible, secure links between data centres and service providers to expand services to branch offices or edge sites
JUMBO INTERCONNECTION PLATFORM DELIVERS
DIRECT ACCESS TO IPTP'S ECOSYSTEM
Jumbo Interconnection Platform allows you to connect with leading ISPs, NSPs, IXPs, major cloud, IX members, CDNs, financial centres, enterprises and many other key partners and providers.
Datacenter
Extend your reach to over 64 cities in 37 countries.
Internet Exchanges
Experience high-performance peering with our JumboIX and other key Internet Exchanges.
Cloud Providers
Connect seamlessly with direct connections to all major cloud providers.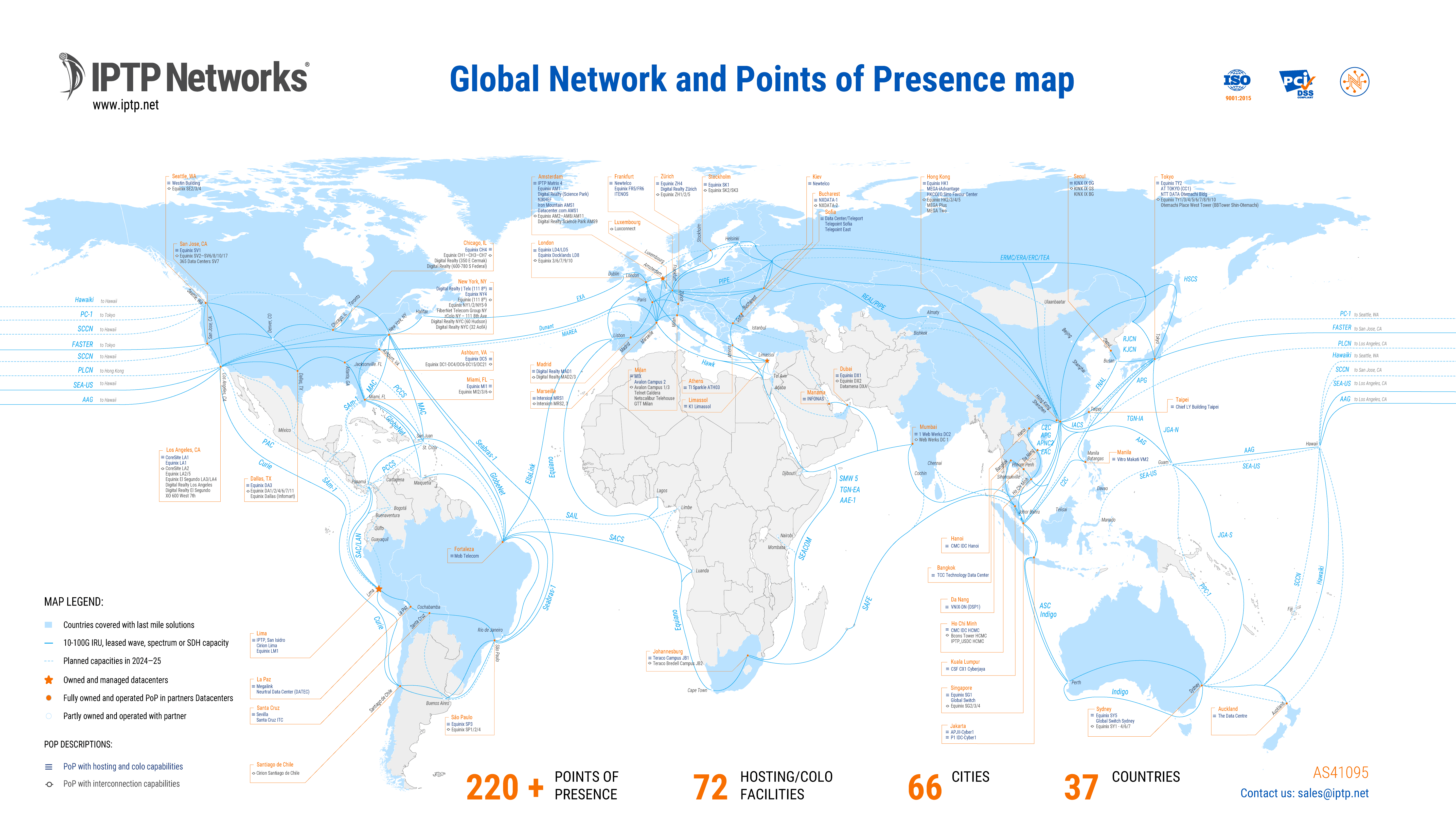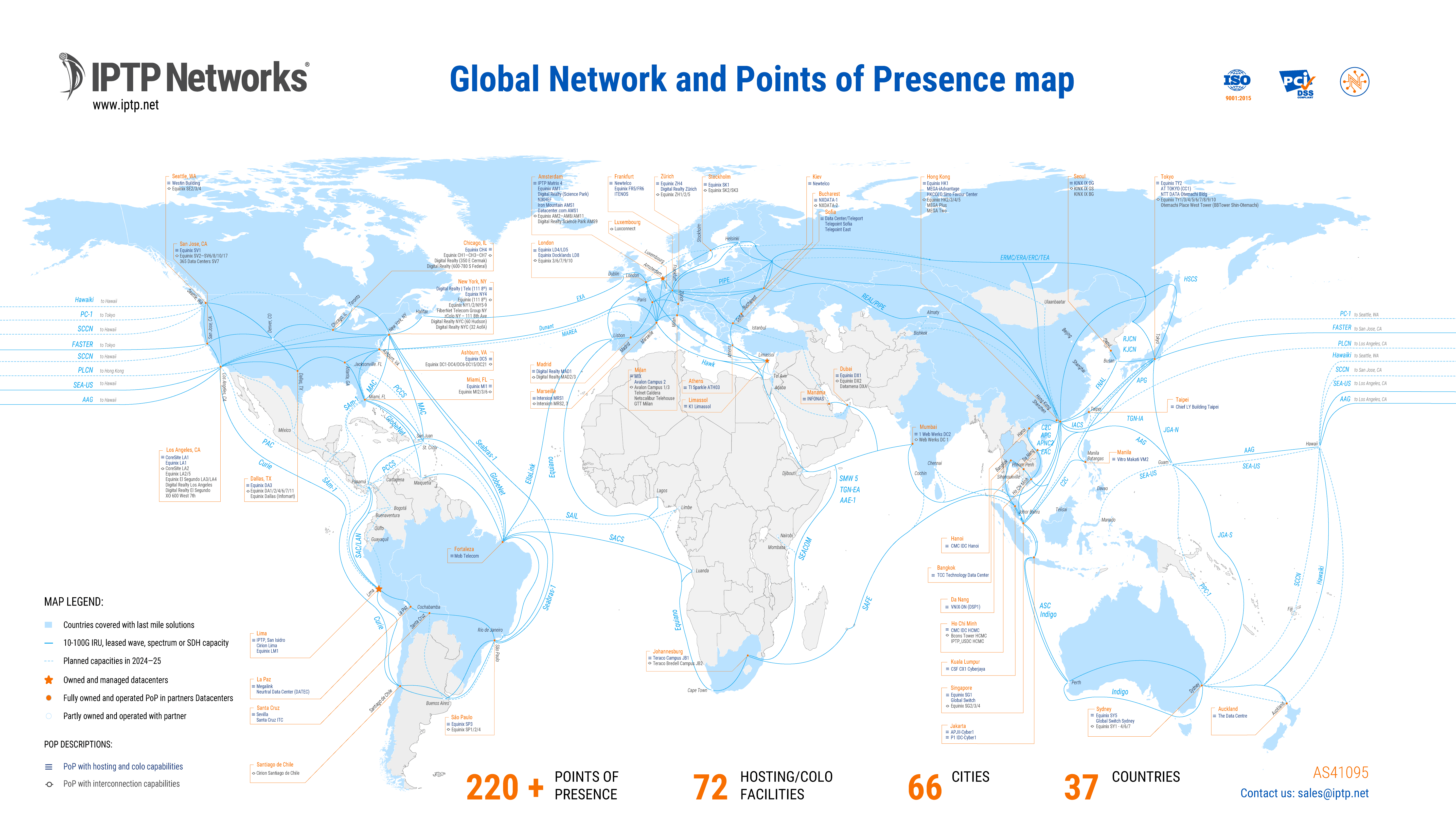 JUMBO INTERCONNECTION PLATFORM AVAILABLE SERVICES
Remote Peering at major regional and global Internet eXchanges
Low Latency and Ultra Low Latency global transport
Connectivity services: MPLS, DIA, EoMPLS, EPL, IEPL/IPLC, etc.
Direct connection to Cloud/FOREX liquidity providers
IP/IX transit included basic volumetric DDoS protection
Remote JumboIX service
Virtual POP
JUMBO INTERNET EXCHANGE (JUMBOIX)
We believe that digital leaders should be able to quickly connect to everything and everyone in the world.
All members connected to Jumbo Interconnection Platform will be able to join our Jumbo Internet eXchange (JumboIX) as soon as they are enabled in the region. JumboIX is currently ready for services at JumboIX Peru, JumboIX Cyprus and JumboIX Bulgaria, but more Jumbo access will soon be extended to other locations.