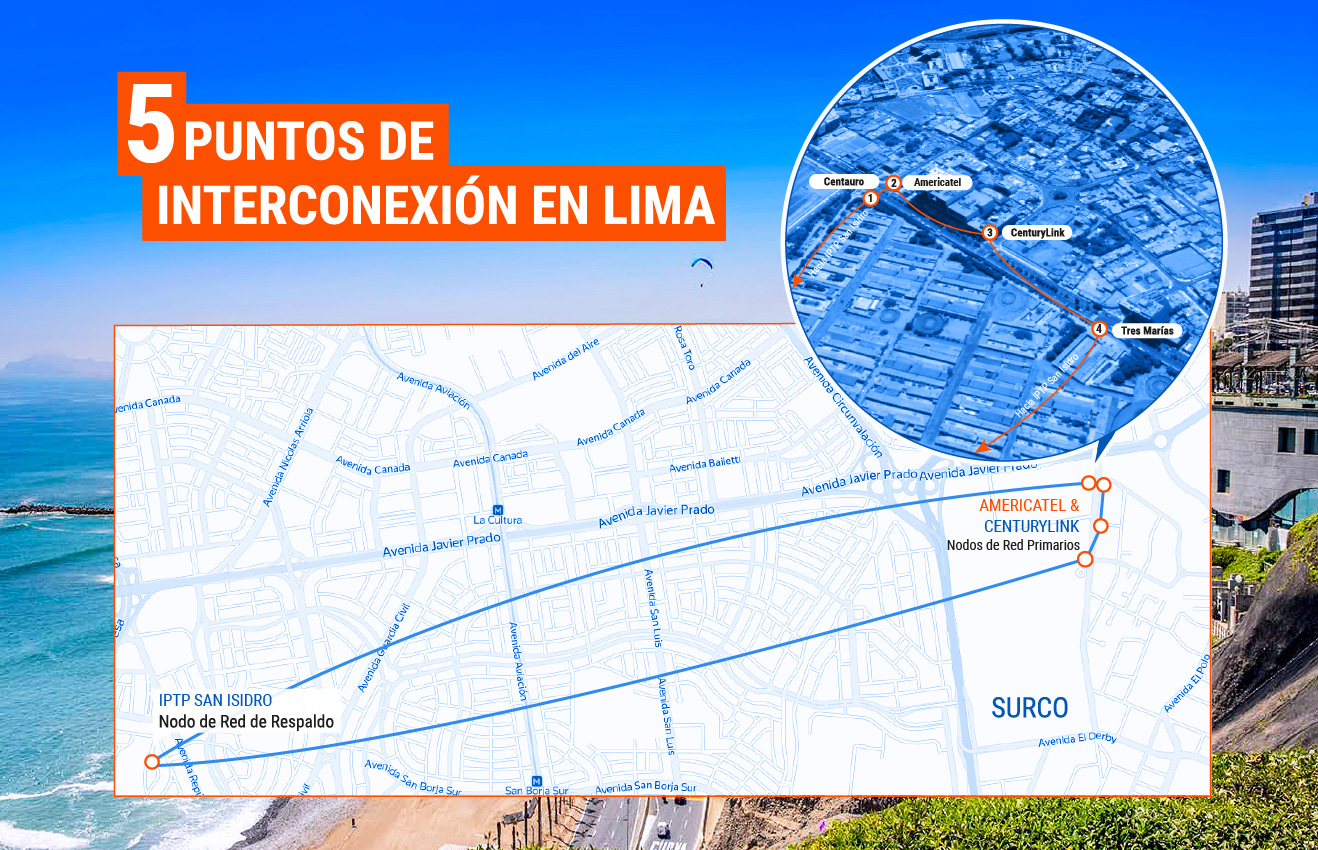 IPTP Networks data center located in Lima (Peru) – DC San Isidro is one of the leading premium-level carrier-neutral data centers among the area. Datacenter San Isidro utilizes a variety of network solutions liaise with with our high-availability global backbone.
Security
Monitoring 24/7/365
Office operated at the same location
Self-built Office solutions system for operation
Low Latency Global Backbone with advanced DMMS
Advanced
State-of-art facility by Cisco, APC/Schneider Electrics/RIDEL.
Cisco-certified board of engineer & technical team.
Up to 99.99% SLA for datacenter services and Network.
Managed Services
Prompt assistance building a seamless integration.
Dedicated Remote Hands per request.
In-depth Maintenance Services.
Highly available system
N+1 Redundancy.
42U cabinet in operation.
Complete protection with Genset.
Direct Dark Fibre connectivity with Century Link and America Tel POPs.
Compliance with ISO 27001, PCI DSS, ISO 9001, TIA-942, Tier III+ industry standards targeting for all systems.
Hybrid L2/L3 network topology with jumbo frame reach global public Internet Exchange.
Up to 9000 byte MTU of data flow.
Developed & Operated by IPTP Networks.
Reduction in CPU cycles and bandwidth in data transmission.
Enhancement network performance as a whole.
---
IPTP Networks tailor deployments serving multi-purposes of applications:
For network service providers
Direct connect to 74 hosting/co-location facilities.
Direct to 232 points of presence worldwide.
Five interconnected points in Lima for holistic IT architecture.
Enjoy full 35+Tbps total network capacity.
For enterprises
Direct to variety cloud services in partnership with IPTP Networks with high performance connectivity.
Enjoy wide range of Datacenter solutions covering globally.
Prompt consultancy for System Integrator purpose.
For cloud and IT services providers
Ability to interconnect directly to companies colocated with IPTP Networks globally at 74 hosting/co-location facilities.
Ability to reach Lima's market via Inter Metro Connect.
Availability to reach global 232 Datacenters through Low Latency/ULL MPLS.
For financial services
Low latency connectivity to global IXes and core financial hubs.
Fastest access to the whole America continent.
Full assistance on Remote Hands and Business Solutions.
Request a quote for dedicated hosting