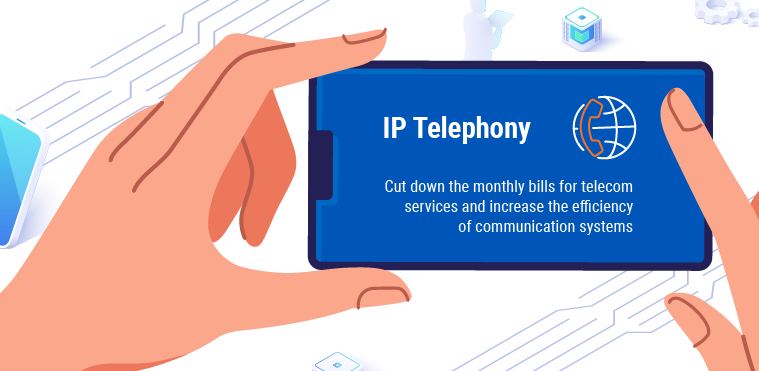 IP Telephony (IPT) is a perfect modern way of communication not only internally but also in meaning to communicate with your partners and customers. Calls over the Internet (compare to traditional phone system) help business owners to take advantage of an internet connection and the accompanying hardware and applications to communicate more effectively.
The advantages of IP Telephony, in comparison with legacy phone systems, are fully evident. It helps cut down the monthly bills for telecom services, increase the efficiency of communication systems, add numerous innovative convergence features, and modify the appearance of your office making it up to date with contemporary aesthetic standards.
IP telephony is based on protocols that allow transferring not only human voice, but video and faxing through the existing network and taking advantage of its redundancy allowing it to achieve 99.999% of availability.
IP telephony is a very important part of integrated platform which unites computers, television and telephone into one big information environment. That's why IPTP networks not only offering IP telephony to its customers, but also using this technology all over global offices, so our colleague can reach each other anywhere and at any time.
IP telephony has many advantages over legacy telephony:
Easier, faster and more flexible deployment. In order to get legacy telephony services a business is forced to deploy cabling, which costs money and time and is fixed to 1 line (analogue) or max 30-24 (digital). While with IP Telephony businesses can grow as they like and at their own peace.
Compatibility. IPTP Networks is offering to the customers such IP telephony call control devices which also allow to not only have IP telephony but also to keep legacy telephone systems (analogue, digital)

TelePresence. You can also integrate your IP Telephony with TelePresence technology to get not only phone but also video calls

We offer the following IP Telephony solutions:
IP Telephony Integration for vessels
Cisco Unified Communications for offices
---
Request a quote for IP Telephony